Caregiving is complicated. It can be one of the most challenging and involved roles a person can take on. Separately, and sometimes simultaneously, it can also be a uniquely rewarding experience for the caregiver.
A caregiver is anyone who provides care for someone in need, such as a child, spouse or partner, an aging or ill parent, or a relative, friend, or neighbor. A caregiver may also be a paid professional providing home care or care in a facility. For this guide, I will be focusing on the informal or family caregiver, who is usually not paid to provide care to this person in need. I will also focus on the experiences of caring for a senior with a major illness or a progressive disease like dementia.
Role of a Family Caregiver

A family caregiver often helps with and manages the day-to-day tasks of the senior needing assistance. Understandably, caregiving and its ongoing oversight of a loved one can be very time-consuming. Assistance with activities of daily living (ADLs) may include helping a loved one with bathing, taking medications, dressing, and eating. Assistance with instrumental activities of daily living (IADLs) may involve scheduling appointments and activities, paying bills, making health and financial decisions, managing medications, and cooking.
This constant day-to-day oversight can be burdensome. It's often a long-term "ask" of the caregiver, with the task load increasing over time. In cases of debilitating conditions like dementia, with guaranteed worsening of abilities and insight, there can be an increased burden on the caregiver with decreased hope for improvement. Also, from what I notice and hear from my patients, some of the more unstated and unpredictable parts of caregiving can be more emotionally taxing than this day-to-day supervision. For instance, a senior needing assistance may be more confused and disoriented some days and be reluctant to take a bath or eat. In these situations, we have the burden of bathing and eating while trying to distract or soothe the care recipient and provide them some level of independence.
Similarly, although you may have taken over financial responsibilities for the senior you care for, they may still worry about whether bills are paid or about the state of their finances. They may ask multiple questions about their finances during the day or night. The care recipient may have been very involved in personal financial tasks, so it still might be something they think about, even with their functional or memory declines. As a result, the caregiver manages some of this additional burden of uneasiness and their loved one's need for reassurance.
Statistics on Family Caregivers
To better understand the prevalence of family caregivers and the impacts of taking care of a loved one, let's take a look at some statistics. Per AARP's Caregiving in the U.S. 2020 report1 and other sources:
41.8 million Americans provided unpaid care to an adult age 50 or older in 2020, compared with 34.2 million in 2015. This number will likely increase as the proportion of seniors in the United States increases.
Of these family caregivers, older caregivers are often caretaking someone similar in age (e.g., a partner/spouse), while younger caregivers often provide care to someone older (e.g., a parent).
3 out of 10 caregivers have provided care for five years or longer (29 percent vs. 24 percent in 2015).
61 percent of family caregivers are working in addition to their caregiver roles.
Most caregivers are women. Women who spend nine or more hours a week caring for a spouse are twice as likely to have heart disease than women who provide care for other family members, such as parents or children.

2

On average, caregivers spend 23.7 hours per week providing care, with a median of 10 care hours.
Around 1 in 5 caregivers indicate difficulty assisting the care recipient with ADLs. Those who spend more time caregiving, perceive no choice in their caregiving role, or care for someone with memory struggles indicate higher levels of difficulty assisting the care recipient.
Almost 60 percent of caregivers report time advocating for the care recipient, with these numbers considerably higher than figures in 2015 (45-50 percent).
More Americans (23 percent) say caregiving has worsened their health, which increased from 17 percent in 2015. Caregivers in the more "demanding" or "intense" care situations indicate the most significant declines in self-rated health.
72 percent of caregivers report that they have not gone to the doctor as often as they should have. Caregivers have a 23 percent higher level of stress hormones and 15 percent lower antibody responses than non-caregivers.

3

Caregivers of people with dementia, including Alzheimer's disease, are more likely to experience health problems and depression than caregivers of those needing less supervision and continuous care.

4

Alternatively, half of caregivers say their role as caregiver offers a sense of purpose or meaning in life.
Caregiver Stress Themes
If you've been dealing with different stressors and difficult emotions as a caregiver, know that you're not alone! Below is a closer look at some of the most common stress themes for family caregivers.
Fear, Uncertainty, and Worry
A hallmark difficulty for caregivers of seniors with a major illness or dementia is ongoing uncertainty about the day-to-day. They may think, "Will it be an easier day for the loved one or me?" "Can I plan a time for self-care or respite?" If it's dementia, the caregiver might think, "Will they wander off or ask repetitive questions that are hard to redirect or answer?" With this ongoing uncertainty, caregivers may find it challenging to make decisions and find themselves more distracted and avoidant. People benefit from predictability and routine, and the lack of it can create fear and uneasiness.
Struggles With Personality Changes or Perceived Intentionality
When someone is seriously ill, their behaviors, personalities, and life views can change. In neurodegenerative diseases like dementia, there are brain changes that make these shifts more likely. In my work with caregivers, navigating the "they look the same, but they are acting differently" aspect is challenging. For instance, a loved one may become aggressive when they never acted that way before, and this can be especially rough when a caregiver is doing extra work for the recipient's well-being and care.
Similarly, sometimes it seems that the behaviors you are witnessing (e.g., wandering, irritability, hoarding) are purposeful, like to annoy or upset you, or that the care recipient is intentionally displaying the worst parts of their lifelong personality. Of course, when they perceive intentionality, the caregiver may feel a heightened sense of sadness or anger. With a major illness or progressive disease like dementia, it can be challenging to factor the impaired insight into the "difficult" behaviors you may be witnessing. In these situations, the DICE approach5 (describe, investigate, create, evaluate) may be helpful to consider.
Isolation
Caregiving can be an isolating experience. Spending large amounts of time (often at a home other than your own) watching over a loved one can reduce time and opportunities for activities elsewhere and with others. Also, the companionship of a loved one who is ill or impaired can be less reciprocal, increasing a sense of loneliness or separation from the outside world.
Demands of Constant Care
Caregivers are often on the clock 24/7. When they're not offering direct care, thoughts of planning or other needs of the care recipient may be present. Ongoing planning thoughts often create cycles of stress, impaired focus, poor sleep, and exhaustion. It can also be challenging to get a break or find ways to obtain respite from this constant care.
Financial Pressures
A lot comes with a major illness or degenerative disease, including bills and financial pressures. Although insurance covers some care, something inevitably will not be covered, or errors will happen. The caregiver may spend extra time researching benefits or filing appeals for coverage. Nursing homes or other long-term care services may be options for you and your loved one, but weighing options and considering finances can be stressful.
Guilty Thoughts
Caregivers make or assist in many decisions regarding the health and welfare of a senior managing a major illness or a progressive disease like dementia. Often, this is amplified by the impaired capacity or decision-making of a loved one. Due to perceptions of the "right" or "wrong" choice, caregivers might carry significant doubt and guilt about their actions. Some of these thoughts may be, "Should we have started on this medication?" "Should we consider other treatments?" "Did I make the right choice to have them live at home (or at a facility)?" Unfortunately, guilt can take a toll on the caregiver, leading to lowered mood, anxiety, and impaired sleep.
The Rewards of Caregiving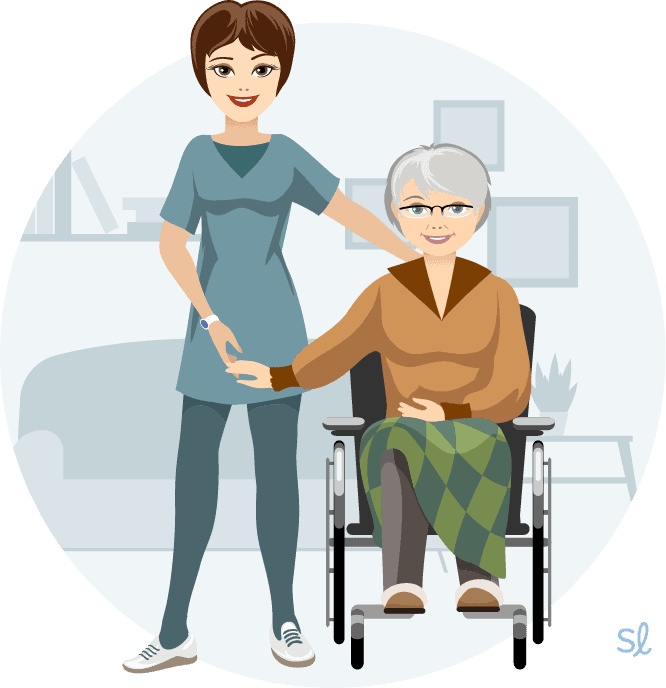 Often, the understandable stress of caregiving receives the most attention. With the statistics noted above, that makes sense. However, my patients also speak regularly about the positives of caregiving. They share these experiences naturally, even without encouragement, and consider the "bright side" of this challenging role. The healthy caregiver hypothesis (HCH)6 has been proposed to explain these positive health outcomes of caregiving.
These are some of the rewards caregivers may experience:
A sense of being closer to your loved one. Instead of a one-way relationship, caretakers can view caregiving as a reciprocal deepening of connection. This perspective of mutual sharing is rewarding to some of those in the caregiver role.
Perceptions of accomplishment and achievement. Caretakers often express a sense of pride in how much they can do and accomplish. They sometimes have a heightened sense of ability and self-efficacy to perform other complex tasks.
Improved physical health. Caretakers may describe an increase in physical strength. Although the statistics above represent worsening health and stress, a frequently cited study

7

from 2009 indicated that "high-intensity caregivers" (i.e., caregivers who help with six or more IADL tasks or two or more ADL tasks) had the best physical performance, including walking pace, grip strength, and chair-stand speed, compared to "low-intensity caregivers" and non-caregivers. Interestingly, non-caregivers had the lowest physical performance.
Improved management of uncertainty. How we think about things that are uncertain or unclear can be one of the most influential factors in anxiety and mental health. Caregiving is packed with ups and downs, including managing uncharted territory, making decisions, and dealing with the unknown of certain outcomes and the future. Facing uncertainty and accepting what we cannot control can be extremely useful for well-being and flexible thinking.
An increased "in the moment" stance. When we think about being present and mindful, we often think of meditation or deep breathing. However, the caregiver's role can also provide a uniquely present experience when they engage in the more basic day-to-day activities and sensory components. You may become more aware of the steps of activities and do them more slowly with the care recipient and experience a sense of distance from all that is going on around you in the outside world.
Improved memory. Researchers

8

have found certain cognitive benefits of being in the caregiver role. Improved cognitive performance has been associated with caregiving length, with those who have been in the role longer having higher cognitive complexity and more personal growth. These cognitive benefits were more strongly related to critical life events, crises, or demands in the caregiving role versus just the passage of time. In one study

9

, caregivers performed better than non-caregivers on tests of memory and processing speed. Also, long-term caregivers' performance was equivalent to that of participants two to 10 years younger, indicating that caregiving may not result in cognitive decline.
Tips for Managing Caregiver Stress
Given the statistics previously noted and the impact caregiving has on health and wellness, you may want to consider these tips for managing the burden and commitment. These tips may also help you to build on any caregiving rewards you might experience.
Learn About Community Resources
It may be helpful to consider community resources and support. One possibility is adult day care programs for those who need additional daily structure or supervision. In-home assistance or visiting nurses may be a possible help in the home. Meal delivery or housekeeping services may also be available. The Alzheimer's Association offers an online Community Resource Finder with information on resources, community programs, and services. Sometimes it helps to contact your local Alzheimer's Association chapter for more neighborhood-specific resources. The Alzheimer's Navigator can also help caregivers create a personalized action plan with their identified needs and supportive action steps and resources.
Aim to Take Care of Yourself if and When Able
Although extra time is rare when you are a caregiver, aim to take care of your physical health and well-being as much as you are able. It's hard to give to others when you are struggling and aren't nurturing personal goals.
Consider Legal and Financial Planning Resources
After a dementia or major illness diagnosis, you may start thinking about legal and financial planning decisions, as well as the extra costs that may impact you and your family. With dementia and its impact on memory and insight, it may not always be possible for a loved one to participate in planning. Therefore, creating or updating documents as soon as possible may help to include the loved one and offer a sense of security and comfort for the future. Separately, if one's financial situation impacts the ability to hire or acquire help or services or obtain caregiver respite, you might consider contacting your local Area Agency on Aging. It may offer information on federal, state, and local programs that can provide financial assistance or other services to reduce caregiver burden.
Develop Social Supports
A sense of connection to others can be beneficial or even essential for wellness and brain health. Understandably, it can be challenging to find the time to connect with others amidst caregiving. For those supporting an individual with dementia, including Alzheimer's disease, ALZConnected is an online community offering caregiver chats and discussion forums. It can also suggest local support group resources. It may help those caring for individuals with a major illness to consider support groups and networks for those managing similar conditions. Many support groups are currently running online, and you may get additional names from your loved one's physicians and care teams. There are many online tools to share and coordinate tasks and communicate with those offering a helping hand. Many people in our lives who say, "Please let me know if there's anything I can do to help," are genuine in that request.
Try to Increase Your Physical Activity
Exercise or physical movements, in any form, can be instrumental in decreasing stress. Any increase in physical activity can reduce stress, such as increasing five minutes of movement to 10 each day. Sometimes the things you enjoy doing that also offer physical exertion are the most realistic options, like dancing, gardening, or walking.
Accept Uncertainty and Limitations
We don't have much control of a major medical illness and progressive disease or in other aspects of aging and health. We also lack control over how our loved ones think, act, and react. Given this, it might help to differentiate between the things you can and cannot change. Focus on the small victories, what you can do to increase the care recipient's independence or comfort, and letting go of unrealistic demands that you place on yourself. Remind yourself that your efforts and "showing up" matter. If the unknown and self-doubts continue to weigh on you, consider listing the many examples of how you are making a difference, or remind yourself of the gratitude the care recipient would express to you if they were still able.
Consider Respite Care
Respite care allows caregivers a short-term break from caregiving responsibilities, while the person with dementia or a major illness continues to receive supervised care. This relief can be for an afternoon, evening, or several days or weeks. Respite care can be provided in a residential center, a health care or skilled nursing facility, or an adult day care center. A respite break may allow a caregiver the opportunity to do things necessary for their health and wellness, like go on a trip or to appointments.
Become an Educated Caregiver
As best as possible without overwhelming yourself, learn what you can about illness trajectory and disease progression. It may help to join informational or support groups to learn about a disease or caregiving skills. For caregivers of those with a progressive illness like dementia, the Alzheimer's Association offers programs to help understand and manage the disease, including the behaviors and personality changes that may accompany the diagnosis.